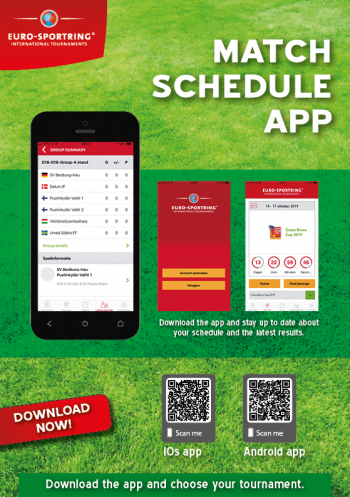 Dear reader,
Unfortunately we are forced to inform you that the Poperinge Trophy will not take place.
Since the outbreak of the Corona virus we have followed the developments closely. For a long time we hoped that the event could take place. However, the outbreak has only worsened in recent months, resulting in the cancellation of the Poperinge Trophy.
We are very sorry for you and our partners in the first place. We would have liked to offer you a challenging sports weekend. All clubs have been informed by now. If you still have questions, please contact your Euro-Sportring contact person.
Euro-Sportring thanks you for your trust, supporting messages and understanding. We will make sure that in 2021 there will be a new tournament program ready for you.
See you at one of our Euro-Sportring tournaments.
Rogier de Kreek | General Manager
Euro-Sportring introduces: The Euro-Sportring Match Schedule App

Download the app and see your match schedule, actual results, standings and the latest information about your tournament. Download here.

In the name of the Board of Royal Football Club Poperinge, I wish you a warm welcome to the 12th edition of our international tournament ' Poperinge Trophy'.
Royal Football Club Poperinge was founded in 1908 and is one of the oldest footballclubs in West-Flanders.
In our club the education of our young footballplayers plays a central role. In our association the flow of young players to our first teams is one of our priorities. Every week our youth can execute their favourite sport in the beautiful sportsaccomodation of our town. Every year we can count on the excellent support of our hometown.
More than a hundred volunteers stand ready to organise this wonderful tournament.
Poperinge Trophy has the reputation to belong to the best tournaments of Eurosportring where fun plays a central role and where everything is well organised.

In naam van het Bestuur van KFC Poperinge (Koninklijke Football Club Poperinge) heet ik alle deelnemende ploegen van harte welkom op de twaalfde editie van ons internationaal jeugdtornooi "Poperinge Trophy".
KFC Poperinge met stamboeknummer 150 werd opgericht in 1908 en is daarmee één van de oudste voetbalverenigingen van de Provincie West-Vlaanderen.
In onze vereniging staat de jeugdwerking centraal ! Een maximale doorstroming van deze jeugd naar onze eerste elftallen is dan ook één van onze topprioriteiten. Iedere week kunnen onze jeugdige spelers hun voetbalhartje ophalen in de prachtige accommodatie die Stad Poperinge ons ter beschikking stelt. Ook dit jaar mogen wij terug op de steun rekenen van ons Stadsbestuur. We zijn er hen heel erkentelijk voor en zullen dan ook alles in het werk stellen om opnieuw een kwalitatief hoogstaande organisatie op poten te zetten. Meer dan honderd vrijwilligers zullen ingezet worden om alles in goede banen te leiden om er opnieuw een fantastisch voetbalweekend van te maken.
Leg uw oor te luister bij de vele ploegen die één of meer van de vorige edities van de partij waren en ze zullen je overtuigen: "Poperinge Trophy" is een niet te evenaren jeugdtornooi waar voetbalplezier centraal staat en alles tot in de puntjes geregeld is !

Au nom du comité de KFC Poperinge (Royal Football Club Poperinge) je voudrais souhaiter la bienvenue aux équipes participantes à la douzième édition de notre tournoi international "Poperinge Trophy"
KFC Poperinge avec matricule 150 a été fondé en 1908 et est une des plus anciennes associations de la Flandre Occidentale.
Dans notre société la formation des jeunes joueurs est primordiale. Jouer dans la première équipe avec un maximum de propre joueurs est une de nos priorités. Chaque semaine, les jeunes joueurs peuvent exécuter leur sport préféré dans une accommodation grandiose mise à notre disposition par la Ville de Poperinghe. Cette année une fois de plus,on peut compter sur la collaboration de la Ville.
KFC Poperinge est très gracieuse et mettra tout en œuvre pour réaliser, une fois de plus, un tournoi impeccable. Plus que cent volontaires seront mis en place pour que tout puisse se dérouler convenablement.
Prenez contact avec les équipes qui ont déjà participé à notre tournoi et ils vont vous persuader : « Poperinge Trophy » est un des meilleurs tournois de foot où le plaisir joue un rôle central et où tout est reglé en détail !

Im Namen des Vorstands KFC Poperinge (Royal Football Club Poperinge) begrüße ich alle teilnehmenden Teams Willkommen zur das 12. Ausgabe von unserer internationalen Jugendturnier "Poperinge Trophy".
KFC Poperinge mit Zuchtbuch-Nummer 150 wurde 1908 gegründet und gehört zu den ältesten Fußballverbände der Provinz Westflandern.
Die Jugendmanschaften nehmen eine zentrale Platz in unsere Fussbalverein! Einen maximalen Durchfluss von dieser Jugend zu unserem ersten Teams gehört zu unseren obersten Prioritäten. Auch in diesem Jahr können wir wieder auf die Unterstützung unserer Stadt-Regierung rechnen.
Wir sind ihnen sehr dankbar und Bemühen um eine qualitativ hochwertige Organisation neu zu erstellen. Mehr als hundert Freiwilligen werden verwendet werden, um wieder eine fantastische Fußball-Wochenende zu bekommen.
Nehmen Sie Kontakt mit den viele Teams, die mindestens eine der früheren Ausgaben in der Hopfenstadt anwesend waren und sie werden Sie überzeugen: "Poperinge Trophy" ist eine unvergleichliche Jugendturnier wo Fußball Spaß zentral steht und alles in Ordnung ist!